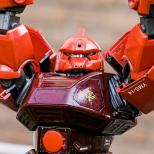 Born in 1980, Italy. My passion for photography started in 2006, after I saw an online gallery of Ansel Adams' images. Self-taught, my love for cinema, especially silent era and noir movies, soon led me to work primarily in black and white.
For me photography is the medium through which I can express my emotions, my thoughts, my ideas.
I personally edit and print my own work.
I am currently working on personal projects and teaching digital photography.


ACKNOWLEDGMENTS
In June 2013 I became Adobe Certified Expert in Photoshop Lightroom.
November 2014 - Colorno Photo Life Festival: Il vuoto gets the Award for best portfolio based around the theme of space.
January 2015 - AgoràDiCult (the blog of the Culture Department of FIAF) publishes a review of the project Il vuoto.
October 2015 - the collective project I X Comandamenti wins third place at DigitER 2015 photographic competition.

All contents copyright © 2009 - 2017 Luca Setti. Except where otherwise noted, the images and texts are licensed under a
Creative Commons Attribution-NonCommercial-NoDerivatives 4.0 International License
. Permissions beyond the scope of this license may be available at
http://www.lucasetti.com/licensing
-
Privacy policy