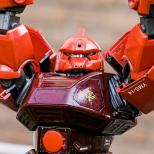 Luca Setti (b. 1980) grew up in a small town in the plain of Northern Italy, where he currently lives and works.
After getting a diploma in humanities he studies Economics at the University of Bologna, where he graduates in 2004.
He discovers his passion for photography in 2006. Self-taught, he masters different systems and formats, both analog and digital. In 2013 he becomes Adobe Certified Expert in Photoshop Lightroom. He personally develops and prints his own work. He also prints works from photographers that are exhibited in well known festivals throughout the country.
The main subject of his photographs is the suburban landscape in which he lives. By utilizing an apparently documentary approach, he searches for elements that can evoke a new reality, that of the insight, with the purpose of expressing the deep emotions and unease produced by the landscape where his life daily unfolds and the challenge of realizing an individual identity in harmony with what surrounds him.
AWARDS
Colorno Photo Life, winner for best project about "space", Il vuoto (2014)
DigitER, finalist, collective I X Comandamenti (2015)
LensCulture Emerging Talents, selected by the Community, Morfeo (2017)
Silenzi Urbani, winner, Morfeo (2018)
FIAF Talent Scout, winner (2019)
REVIEWS - PUBLICATION
blog AgoràDiCult (Dipartimento Cultura FIAF), review, Il vuoto (2015)
blog AgoràDiCult (Dipartimento Cultura FIAF), review, Morfeo (2017)
Cities Magazine, pubblication, Morfeo (2018)
GROUP EXHIBITIONS
Festival Fotografico Europeo, Silenzi Urbani. Varese (2018)
Trieste Photo Days, Silenzi Urbani. Trieste (2018)

All contents copyright © 2009 - 2022 Luca Setti. Except where otherwise noted, the images and texts are licensed under a
Creative Commons Attribution-NonCommercial-NoDerivatives 4.0 International License
. Permissions beyond the scope of this license may be available at
http://www.lucasetti.com/licensing
-
Privacy policy